Maui Beach Vacations by areas
Maui has many areas to stay on your Maui beach vacation. Each section of this island destination seems to hold a different cost structure, but since the island is easily traveled staying in a more budget conscience zone can prove beneficial to your vacation.

Some are great family vacation zones and some are best suited for romantic getaways. Which ever town you decide be sure it fits your family and your budget. Why pay for the availability of services or amenities you will not use. This is your vacation so stay centered on your lifestyle and what you can afford.
MAUI MAP
Use the Maui Map below or the descriptive list that follows to link to specific area page. From those pages you can get to dining, beaches, and activities and more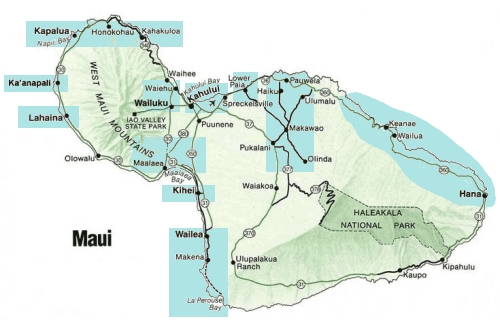 ---
Lahaina
Lahaina is west Maui's . shopping and dining hot spot. Fridays is arts night and a not to miss event. Ocean front restaurants, funky and world renown art galleries are ever mixed into the historic facades of Hawaii's famous Whaling town.
Ka'anapali
Ka'anapali, planned development, with out need to leave. Golf, spas, dinning, and shopping, everything you need for an excellent vacation.
Honokowai , Kahana, Napili, Kapalua Area
Romantic vacation opportunities, unlike the planned areas of Ka'anapali and Wailea these areas are individual and random. Kahana is very budget minded offering just as many amenities as the planned areas. Kapalua with its PGA golf courses, Ritz Carlton lodging and a new rebirth of adventures is worth taking a look at.
---
Kihei
My kind of area, parks, beaches, shopping, extremely affordable with many condo rentals from owners. You will feel like a family member in Kihei.
Wailea and Makena
Wailea / Makena Wailea and Makena from world class ratings to the best beach on Maui, this once dry side of the island is now paradise reborn. Shopping like Fifth Avenue can be found at the shops at Wailea. Maui's only clothing optional beach is located in Makena.
---
Hana
Hana is old Maui, the road to Hana which is defiantly worth the effort, but also stop look and feel the Hawaii in this rain forest side of Maui. Beaches of black and red sand waterfalls, and hidden pools are a days adventure in this area. The town of Hana boast the ultimate secluded getaways.
Paia
Paia artist, surfers, famous people and ordinary people. Love of life living, dining, and attitude are ever present in Paia. A joy to visit. Paia also has Ho'okipa beach the kite surfing and surfing place to be. The world known "Jaws" with its huge waves is right up the street.
---
Kahului
Where you will land at and Maui's business center. Costco, Wall Mart, K-mart and six shopping centers will get you stocked and ready for your Maui vacation.
Wailuku
Old town charm of yesteryear and the county center office. Market street is the place for art, antiques and cafe's that can not be beat. Waihee ridge is here and worth every effort of the hike to see down into a rain forest.
Ma'alaea
Ma alaea is the sugar fields and isthmus between Maui's two mountains, here you will find one of Maui's most popular attractions Maui Ocean Center. This hands on aquarium is excellent for a half day trip. Outside the Ma'alaea harbor is where most excursions and fishing boats head out of.
---
Makawao
Cowboy town from older times but now a cool relief to the hot coastal areas. Rodeos, forests and three climate zones await you here.
Kula
Gardens, sweeping views, and beautiful sunset beckon you to come to upcountry and cool off. Splendid scenery, lodging and slow pace will be served up Aloha style.
Ha'iku
Minuets from everywhere this lush area of Maui offers hiking trails and walking paths to beautiful gardens and waterfalls.
Pukalani
Consider this the gateway into Haleakala National Park. This quiet town is gorgeous charming in its rural charm.
Olinda
Olinda is more a drive than a place. When you enter Makawao from Baldwin avenue cross over on to Olinda and drive up. It will get colder and you will travel through a few more climate zone. The views are worth every incline up.
Ulupalakua
Cattle ranch, cowboys, horses, general store and a winery? Doesn't fit together smoothly but it fits. The largest ranch on Maui is also the only winery on Maui find out why you need to visit.
---