Wailea Maui Hawaii Makena Maui Hawaii
Norman Rockwell could not have painted a more beautiful Wailea Maui Hawaii and Makena Maui Hawaii.
This area of exquisite manicured landscapes, and controlled designs is the best of Maui. From its welcoming sign you will see the views change to perfect. Tree lined roads, walkways, bike lanes, everything planned and as perfect as it gets. A paradise inside of a paradise.
Wailea designers lined up Maui's best resort destination with many five star resorts, its most famous are The Grand Wailea Resort, The Fairmont Maui, Diamond Hawaii Resort and Marriot Resort and Spa.
Wailea Rentals
Wailea beach condo rentals are available as well as luxury Hawaii Vacation Rentals
. Wailea Maui Hawaii rentals come in all sizes and shapes to accommodate any size family and budget. Makena area, next door to Wailea, holds the Makena Beach and Golf Resort and the beginning of the best part of Maui, a preserve area of lava flows and desolate secluded beaches. See Maui hiking page for more on these excellent day hikes. The Makena Beach and Golf Resort has an Asian flair to its design with a rain forest flowing from its center. Her beauty is appreciated by the many weddings that take place on the grounds daily.
Wailea Beach
Wailea beach Maui has a gorgeous beach with walking paths and the most beautiful Hawaiian sunsets imaginable. Visit Maui Beaches page to get the facts
Makena Beach
Makena beach or beaches are considered the best in Maui. Having the best beaches and a nude beach makes it a popular place any day of the week. Big beach and Little beach are the beaches to be at. Good surf breaks, snorkeling, swimming and great sand are the draw. Weekends are busy and exciting. Little beach is hidden and while not 100% legal is considered a nude beach or clothing optional beach. Visit Maui Beaches page to get the facts.
Wailea Village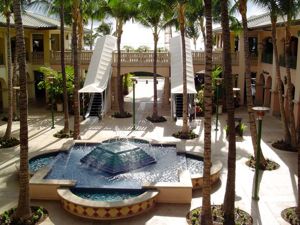 Shopping at the Shops of Wailea will make you feel as your in Wailea Village as it is entwined in the resort areas well with in walking distance. Here you will find Tommy Bahama, Tiffany & Co., Louis Vuitton, as well as Na Hoku jewelers. This unique open-air shopping center is the essence of Wailea Maui Hawaii, relaxed luxury. Additional Shopping can be found at any of the resorts in Wailea, each with a great line up of exquisite shops.
Wailea and Makena's exceptional image is ever present in its world-class restaurants. Each resort offers the finest dining experience you can imagine. Spago, Tommy Bahama Tropical Café, Nick's Fish Market and Capische round out just a sample of the offering. Visit our Wailea Maui Hawaii Restaurants page for more dining details in Wailea and Makena.
Wailea Spa Maui
Wailea has some of the best spa experiences available in Hawaii. The Spa Grande at Grand Wailea Resort, the Mandara Spa, and the Spa Kea Lani at the Fairmont Kea Lani Resort.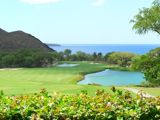 Wailea Golf
Wailea and Makena hold five championship golf courses. The Maui golf page can help you find the perfect fairway to test your game.
Wailea Makena Activities
Activities in this area are mostly self guided. Hiking the Kings Trail, or to the last Lava flow vent, swimming, surfing, snorkeling, and the ever dangerous shopping makes this a great place to stay and vacation. The La Perouse Bay is a historical Landmark and the end of the road in Makena from here you can hike to the dry barren side of Haleakala. Huge Lava cliffs and lava fields guide you secluded beaches romantic beach coves.
Wailea Weather
Wailea as well as Makena are on the edge of the dry area behind Haleakala. Very little rain annually here and when it is present it doesn't last long. The trade winds will keep you cool in the afternoon after around 11:00 am. You will enjoy the cool nights as you watch the ever beautiful and changing sunsets
---
Check back often we are constantly adding pages and offers. I write pretty slow. You may not be ready to go to Maui this year but when you are we will Get You To Maui.
MA HALO