Maui Beaches
Maui beaches are voted some of the best in the world almost every year. The island's volcanic rock make it possible to have black sand beaches and even a red sand beach. Most main beaches are perfect for families and swimming. Hidden and secret beaches are around for that romantic we want alone time. More of a free spirit type? A clothing optional, or nude beach. The term Best Maui Beach will mean different things to different people, so please read take note get your own list of Best Maui Beaches.
Surfing, snorkeling, windsurfing, kite surfing, scuba diving, body surfing, even beach combing can crowd out any beach, the things that make some of these beaches good for one activity will create additional hazards for other activities. Protect yourself and loved ones with common sense and good beach safety sense. Click here to be taken to our Maui beaches safety page
Black sand beaches and red sand beach come from the colors of the rocks around them. They are different and worth a visit and some pictures. Black sand beaches are located in Hana and the Makena areas.
Clothing optional or nude beach people you have a place on Maui to get that all over tan. Little Beach just past Makena is your best Maui beach. Surf naked, snorkel naked, or just belong to the joyous community of like people who enjoy and celebrate this style of life.
---

Maui beaches are sun burn ready. Most people will find out they only spend about two hours on the beach in the morning. This will be enough to get a tan and leave time for activities and adventures. In the afternoon the beach is great again as the crowds go away and romance kicks in. Be careful with the amount of sun you are getting in Maui.
Sun burn is not a great thing to have on vacation, get a good base tan at home before trying the Hawaiian sun. See what the professional lifeguards have to say about the sun.
---
Maui Beaches by Area
Now that you reviewed the safety issues with beach use review the beaches listed below find the best beach for you and add them to your planner. We have listed the table by area just like the planner so you can plan your best beach visit one area at a time.
This page is long, so use the links to jump around. There will be links to bring back to the beach listing along the way.
---
WEST MAUI BEACHES
Papalua Park

Papalua beach is close to the tunnel coming from Lahaina on your right. There is no parking lot, a few picnic tables and no bathrooms. Excellent snorkeling and diving from the beach at the coral heads. You should see turtles but the fish are not used to people so they usually don't hang around. Since the coral heads under the water help with good wave breaks this can be a great surf spot when the conditions are right. Whale watching is pretty good during the season. Nice private sand beach with beautiful sunsets.
---
Ukumehame Park
Ukumehame Beach Park is a great place to get away from the tourist crowd and enjoy a great beach. Swimming, snorkeling, diving, fishing and picnicking round out what this beach is about. Twelve picnic tables, shade, two porta-potties and BBQ grills help bring conveniences to this beach. Parking is available. To see the official park site click here Maui official park site.
---
Olowalu Beach

Olowalu beach is fairly protected by wind, which helps make it a great snorkeling beach. Excellent diving can be done when offshore about fifty yards. When winds are tame kayaking is good and one can see the coral heads just under water. If winds pick up please get back to shore as the wave action will beat you onto the coral heads just below the surface.
---
Launiupoko Beach Park
Launiupoko beach is a local favorite for good reason. A well rounded beach for longboard surfing, protected lava rock pool for the kids, facilities include bathrooms, showers, telephones, BBQ grills, and two parking areas. Protected from the trade winds the waves are gentler and set up great for longboard surfing. Fishing is available as well as snorkeling. Grassy shaded areas to picnic in help keep the comfort level up. You can see why the locals use this park so much. To see the official park site click here Maui official park site.
---
Puamana Beach Park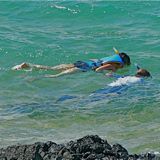 Slim shore and soft winds make Puamana beach a great swimming beach. Right before Lahaina this is a convenient park to get a break and have a picnic. Sandy beach and bottom create the great swimming along with snorkeling further out. An artificial reef from a sunk boat provides good habitat for marine life. To see the official park site click here Maui official park site.
---
Wahikuli Beach Park
Wahikuli beach is located just past Lahaina as you drive toward Ka'anapali. A great beach for picnicking with its many BBQ grills and ample parking. Many tables make this a great beach for family outings. Waters here are calmer and less wind helps make this a good swimming beach. Being so close to Lahaina and Ka anapali make this a good beach for families. To see the official park site click here Maui official park site.
---
Ka anapali Beach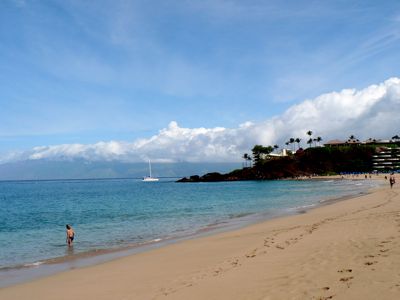 Ka anapali Beach is one of the best beaches in the world. Every facility you could wish for in a beach can be found here. Snorkeling, swimming, scuba diving, walk way, food court, shopping, restaurant, resorts; if your best Maui beach includes a comfortable surrounding then this is your beach. Great sand, sights and water. If your group includes teens or young adults you can not go wrong here. Available rentals include, surfing, sailing, catamaran rides windsurfing lessons, snorkel and diving gear, cabanas, etc. If you don't stay here try to have one day in this area anyway you will not be disappointed.
---
Honokowai Beach
Small sand beach with good swimming features and plenty of parking. Tables, rest area and showers make this a good place for a cook out or a relaxing bag lunch stop. To see the official park site click here Maui official park site.
---
Napili Beach
Napili beach is home to some of the best snorkeling on Maui. A large crescent shaped beach with protected water offers great swimming. Surfing should be done somewhere else. White sandy beach and and a lot of it. Can get crowded but a great swimming beach to try. Parking is little tricky to find but it is public.
---

Kapalua Beach Park
Kapalua beach is also called Old Flemings. Good swimming and snorkeling, scuba lesson available also. Protected from trade winds pushing up the surf. Kapalua enjoys soft sands, calm waters and great resort amenities close by.
---
D.T Fleming Beach Park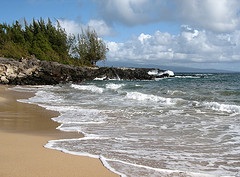 To see the official park site click here Maui official park site. This is a family beach with lifeguards, ample parking, BBQ's, bathrooms, and picnic tables. Soft white sand and soft waves makes a it a grand swimming beach, Kayaking, boogie boards, and snorkeling can all be had here. This is a good beach to spend a day at with kids.
---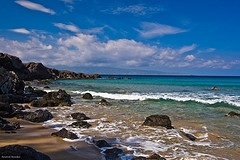 Slaughterhouse Beach
Slaughterhouse beach also know as Mokule'ia Bay is an OK beach, water may be cloud,y and the sand comes and goes. The views of Moloka'i are the best on Maui. Stop at the 32 mile marker and take the concrete stairs down.
---
Honolua Bay

While not really a beach per say this is a great snorkeling spot. Rocky beach, coral and rocky bottom, too many people, not good parking but crowded. This means the snorkeling is grand. This is a wildlife reserve so no fishing is allowed, and please do not stand or molest the coral. No amenities to speak of and Do Not Leave anything in your car!
---
EAST MAUI and North Shore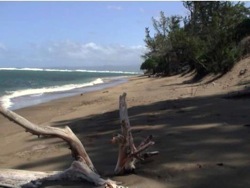 Waihee Beach Park
To see the official park site click here Maui official park site. Waihee Beach Park is below the Waihee Municipal Golf Course. Good swimming and snorkeling if trades are calm. Park has rest rooms, showers and good parking, 8 picnic tables and BBQ stands make this a good park to bring the kids to.
---
Kanaha Beach Park
To see the official park site click here Maui official park site.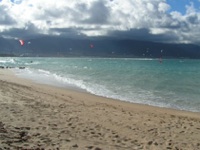 Kanaha Beach and park is right beside the airport. Jump off the plane and take a stroll on a mile + beach, several parking areas, restrooms, picnic tables, BBQ, and showers to clean up. Shaded areas to get out of the sun help make this one of the most popular beaches in Central Maui. The Lae'ula O kai Canoe Club is located here so you can see the covered canoes. Windsurfers and Kite surfers come here for excellent steady offshore breezes. This is a beautiful full day beach.
---
H. A. Baldwin Beach Park
To see the official park site click here Maui official park site.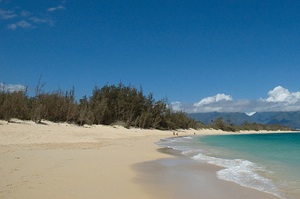 Located just inside Paia HA Baldwin Beach is a convenient beach for many reasons, lifeguards, covered pavilion, 18 picnic tables, soccer, softball, restrooms, shower fresh water, fountains, and if thats not enough great Swimming. With it being so close to Paia a quick walk will put right into stores and a town to behold.
---
Ho'okipa Beach
Maui official park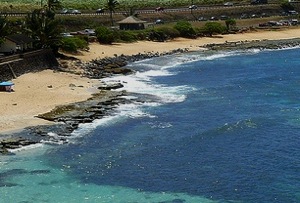 Excellent surfing and windsurfing with a stiff on shore wind, white sand, and coconut trees. What could be better. Swimming is good only in AM when surf is low. This beach is all about water activities and good surfers need only go out. Dangerous surf always toward midday and afternoon. Lifeguards, three shelters, restrooms, showers, picnic area and a great overlook for photographs make this a must stop on the road to Hana. Plenty of parking.
---
Hamoa Beach
Just before Hana is one of Maui favorite beaches Hamoa a secret to some because of no parking lot. Park on the road and walk down stairs to the beach. While there are no lifeguards, this secluded beach is the perfect place for a romantic picnic. Restrooms are available, limited snorkeling, and swimming as surf is unprotected and can become dangerous quickly
---
Hana Beach Park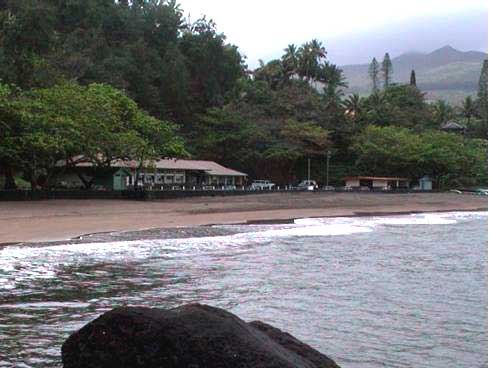 To see the official park site click here Maui official park site. Hana Beach Park should be called local meeting beach, this excellent family beach area holds all the facilities you need to enjoy a beautiful day in Hana. The Kauiki Lighthouse seen off the coast is a stark reminder of the dangers of ocean travel around the edges of the island. Calm water reddish tinted sand, is a sunbathers delight. Picnic tables, BBQ, and shelters in case of rain, even a rare snack shack with hamburgers and ice cream to keep you full and happy. Restrooms, showers, foot washes, and Kayak rentals are available.
---
Waianapanapa Beach Park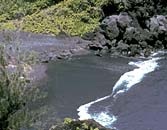 A Black sand beach with a huge campgrounds, park facilities, a blow hole, volcanic lava arch sea caves, even remnants of the old Kings highway. Campground offers rental cabins, shaded picnic areas, freshwater spring fed caves, hiking trails. This is one place on the Hana highway that you should not miss. Remember the name don't try to spell it.
---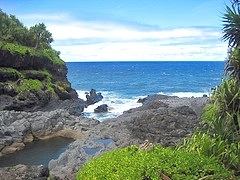 Oheo Gulch Park
Oheo Gulch is a part of Haleakala National park system. Seven sacred pools is a recent name given to the pools of water created by waterfalls as the water flows to the ocean. More of a park than a beach this is a good place to stretch your legs and rejuvenate after the long ride here. Plan on at least three hours to see it all.
CHECK OFTEN WE ARE ADDING BEACHES DAILY