Maalaea Maui
Maalaea Maui is home to the most popular attraction on Maui, the Maui Ocean Center. The Maui Ocean center sits next to Maalaea Harbor where you can catch a tour out to snorkel at Molokini or relax with an evening dinner cruise. A shopping village and a couple oceanfront restaurants round out the offerings. For the nature enthusiast the Kealia Pond National Wildlife Preserve is close by with its acres of protected waterfront and salt marshes inviting Hawaii's endangered species to relax in paradise undisturbed.
Maalaea Maui sits at the end of the valley between the two mountain ranges of Haleakala and West Maui. This location lends itself to strong trade winds when they are funneled between both mountains. The large expanse of sugar cane on both sides of the road from Kahului is the last sugar plantation on Maui.
Most tourist set on getting to the West side of Maui between the hours of 4:00pm and 6:00pm may find it is better to stop in Maalaea and shop, eat or wait out the everlasting traffic jam at Lahaina. You can relax in one of the oceanfront restaurants or just shop in some of the most unique shops on Maui. You can choose, relaxing, or sitting in a car hungry and grumpy from your five hour + flights.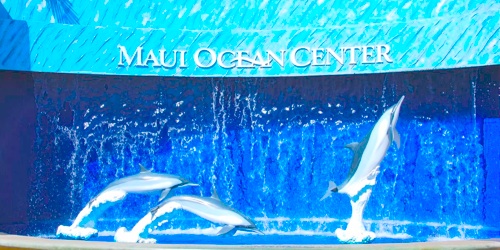 The Maui Ocean center is Maui's top attraction, discounts for admissions can be found on our Maui discounts page. The Maui Ocean Center is a must see if this is your first time to Maui. List this on your Maui Vacation Planner on one of your day list pages. The time required here is from 3-5 hours to see it all. Children and non snorkeling adults will gaze at the massive walk through tube in the aquarium. You will see most species that are in in the surrounding waters, along with some varieties you wish were not. Hands on exhibits will leave a lasting impression on your minds as you touch and feel the ocean's creatures. For the more daring, an in-tank shark dive is available by reservation only. The 750,000 gallon aquarium and its walk through tube will bring the diving and snorkeling world to you wile you get stay dry.
After the Maui Ocean Center you will be hungry, and there are two restaurants inside the park or visit the other restaurants in the connected shoppers village.
---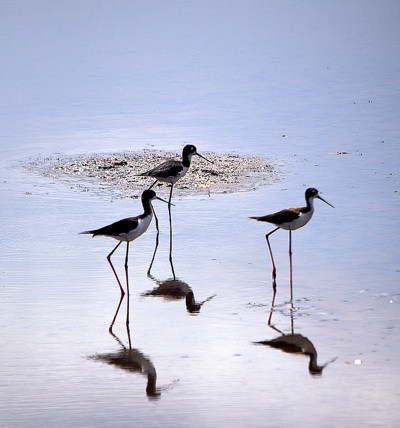 Open from 8:00am to 4:30 pm the Kealia Pond National Wildlife Preserve will open your eyes to the yearly struggle of wildlife on Maui. over 200 acres of partials flood basin is home to Maui's protected birds and wildlife. This area can be walked and photographed. Some of the protected species are the Hawaiian Stilt and the Hawaiian Coot, along with the Hawksbill turtles who lay their eggs on Kealia Beach. See the linked websites for more information on this wonderfully preserved place.
---
Maui Golf and Sports Park is what your child will want to do on Maui, right next to the Maui Ocean center you will find acres of fun for the kid in you. Two putt-putt courses, bumper boats, rock climbing, and ex-treme trampoline are there for your enjoyment.
---
Maalaea Condos
Ma'alaea Bay, and Ma'alaea Kai condo rentals are next door to all the exciting to do here in Maalaea Maui.
---
Visit our dining page for more information on dining in the Ma'alaea area.