Hiking Maui Guide
Hiking Maui is simple; A pair of shoes, water, and some bug spray and your set to see Maui's secret waterfalls, secluded coastlines, deep rainforest, valley ridges, hidden streams, and much much more. So as they said in the Seventies, Go Take A Hike, Maui Style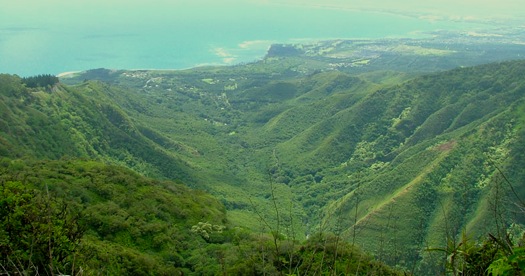 Where to Hike Maui?
Hawaii state park service and generous landowners that promote hiking Maui, allow access on trails all over the island. Download this map of some of the more notable trails. The Best of Maui Hiking trails are listed below.
Best Hikes on Maui
Hiking Maps, State Parks, Hiking Safety Downloads
How marked are the trails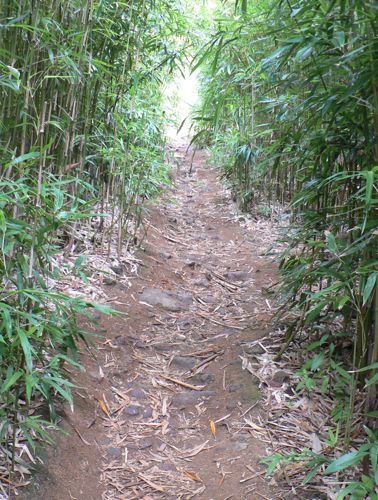 Most highly used trails are marked very well and maintained extremely well. The more secretive and private ones are not marked as well and a guide may be needed. If you wish to do a private hike there are numerous companies on Maui to accommodate your needs.
What Hiking gear do I need?
Shoes for hiking on Maui can range from any sport shoe to Flip Flops. I usually wear sport shoes or my closed toe sandals. Hiking boot are fine but do add to your limited luggage space.

Whatever shoe you use be sure of this, in the forest they will get nasty dirty, on lava flows they will get shredded, and on the arid trails they will become Maui orange and stained for life.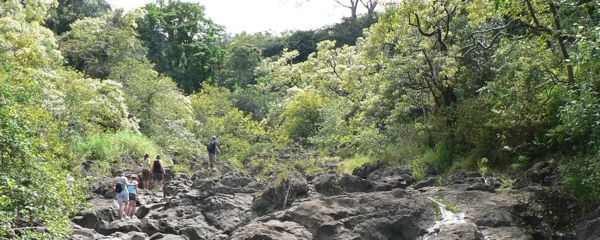 What clothing is needed?
The clothes you wear should be based on the trails or areas you plan to hike that day. Remember to a account for afternoons, wind, and rain. Use this as a guide
Beach or shoreline hikes; Shorts or bathing suits, Shirts or sport tops, Sunglasses, Sunblock, and plenty of water. See footwear above.


Forested areas or up to 2000 foot elevation; Same as beach but add bug spray, and carry a wind breaker if you will be out in the afternoon and susceptible to chills.


From 2000 to 6000 feet add a sweat shirt or lightly insulated wind breaker, some may want longer shorts if you will be on the windy side of the mountains in the afternoons.


Crater hikes, PoliPoli hikes, or anything above 6000 feet. Bring a medium weight wind breaker, or a sweat shirt, and some long pants you can pull over your shorts. Usually the temperature at the 6000 to 10,000 foot crater elevation is from 30 to 40 degrees lower than the beach temps. It is windy and chill factors easily hit freezing even in summer. Take a blanket from your room, be prepared if you are planning on watching the sunset from above 6000 feet.
Do I need a Guide
YES;
If you are not comfortable finding your way in a forest or are not planning on going extreme. A guide is the best way to see and learn the most about Maui's trails. Most guide packages include lunches, water and can have access to secret areas off limits to regular visitor hikes.
NO;
No guide is needed if you hook up with a local who knows the area or are experienced at getting in and out of a forested area. Safety becomes an issue at dusk and in the threat of rain around streams. I usually do not use a guide but sometimes I have been a little off on where I ended up, than where I started. But what the hell how lost can you get on an island.

---
The Haleakala area is comprised of over Thirty miles of trails. Some loops some one way and some trails to camping cabins. If you can drop a car in a little town of Kaupo Gap you can hike from the crater all the way above Hana to this town. a dramatic 6500' decent, with breathtaking views of the windward side of Maui.
Other hikes take you through the crater floor to see a close up of the wonders of a volcano.
Crater hikes; 30 miles of trails, with cabins available, some trials are out and back others will take you to the small town of Kaupo Gap past Hana. Ten milers out and back include the Halemauu Trail, or the Sliding Sands trial from the visitor center to one of the cabins available for lodging. Either trail, it is an adventure you will never match again.
Haleakala Ridge Trail, 1.6 miles, can join up with the Plum Trail or continue to the shelter at the end. Both the Skyline and Ridge trails offer superb panoramic views of Maui. Hosmer Grove is a forested area a mile inside the park. This is a good trail clearly marked and educational, about 1.5 hours will get through.
---
PoliPoli State Park
PoliPoli area is a great State park allowing mountain biking as well as hiking on its trails. The Boundary Trail, at 0.6 miles is a teaser to the longer, Waiohuli Trail at 4 miles. Waiakoa Trail, at 7 miles is great for about a 3 to 4 hour hike, and Waiakoa Loop Trail, at 3 miles will get you back to your car in around 1 hour.
---
Hana Area
Ohe'o Gulch;
You'll find two trails starting just off the parking lot: a 1/2-mile trail that takes you to an overlook of Makahiku Falls, and another trail that takes you 1 1/2 miles up to Waimoku Falls. Both trails are great treks and you can even get wet in the waterfalls and pools. Be careful of flash floods though.

Waianapanapa State Park, Two trails here one being about a mile the other 3 miles. First one will take you to a black sand beach and the other way will get you to Hana bay.
Other hikes in this area are referred to as the Bamboo Trial or the Pipiwai Trail both are similar but in different locations (See Below).
---
Lahaina Pali Trail>(click for more info)
The Lahaina Pali Trail was used historically by the Hawaiians crossing into West Maui from Central Maui. The trails is about 5 miles, of hot, dry, steep terrain, but offers tremendous panoramic views of Maalaea Harbor and Bay. During the winter Whale sightings are an everyday event from this advantage point. The trail will take you up to the wind farm high up on West Maui Mountains. An interpretative guide, "Tales From the Trail," is available free from the Department of Land and Natural Resources, 200 High St. in Wailuku. We took this hike in 2008 read about our adventures here.
---
Kings Highway Coastal trail
King's Highway Coastal Trail or Hoapili Trail is a 5.5 mile trail across Maui's newest lava flow. This area was once a thriving Hawaiian fishing village, many archeological sites still exist today. Starting out at La Perouse Bay hike through the rugged and desolate Lava Flows, you will see lava cliffs, secluded, secret beaches, arid dry ranch lands, even a few wandering wild goats. We hiked it in 2007 check out our adventure here.
---
Iao Needle
Iao Needle holds the Tableland Trail and the Iao River trail, a permit is required for either and can be obtained at 808-244-9570 from Wailuku Agribusiness. The tableland trail is a ridge between two rivers, it can be slippery in wet weather but offers beautiful 360 degree panoramic views. The other trail is Iao River trial, along the river bed crossing a few times assures you get wet and stay cool.
Waihee Ridge
Waihee Ridge trail is a ridge above Wailuku's right side. The trail is steep and a great ecotour type adventure. No guide is needed and the views are to die for. Earlier in the day is best as long as rain is not present. A 1600 foot ascent will keep your blood pumping. This is one of my favorite hikes on Maui. See our Waihee-Ridge Hike review page for more information.
Waihee Valley
The Waihee Valley hike is sometimes refereed to as the Swinging Bridge Trails. Located beside the Waihee Ridge the Valley hike includes swinging bridge crossings, water crossings, Waterfalls etc. There is $5.00 parking fee from a landowner but it is well worth the money. When we were there a snack shack was available to purchase fresh nuts, and drinks. See our Waihee-Valley Maui Hike review page for more information.
---
Bamboo Trails
The Bamboo Trail on Maui is often used to relate to more than one actual trail. The Pipiwai trail is sometimes called this. The Bamboo trail I am referring to here is at Mile marker 9 on the Road to Hana. It is a great trail with much to see and do. Stream crossings, rock climbing (easy) waterfalls, swimming, beautiful tropical photo opportunities, will delight and excite you. See the full Bamboo Trail review with pictures here.
---
Pipiwai Trail (Bamaboo Trail too)
The Pipiwai Trail is 4 miles roundtrip, gaining 650-feet in elevation. Ending up at Waimoku Falls, the largest falls on Maui, a 400 foot fall into a boulder filled stream. Just past mile marker 42 on the road to Hana you can see the parking lot, follow the signs.
The pictures of a boardwalk through a Bamboo forest you see occasionally were taken on this trail. On the lower falls Oheo pools a safer dip in a freshwater pool will cool you off and get you ready for adventurous ride back to your room.
Whatever hiking Maui trail you select to try please be carefull and check the weather forcast. Happy Trails, take pictures and send them to me.
Leave Hiking Maui Page Go to Home Page