KIHEI DINING; a MAUI GUIDE
Kihei Dining in Hawaii has it all when comes to food choices; from sand floored outdoor bistros to oceanfront romantic dining. Whatever your taste or budget you will not be left hungry on this beach. Luau, fast food, local cuisine, seafood, even road side fish tacos to die for, Kihei dining is affordable and plentiful.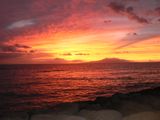 Open patio dining, sunsets, and a cool tropical drink will help end out your day relaxed and refreshed. An early dinner will allow time to stroll the beaches and see some of the best Hawaiian sunsets. Kihei dining and the sunset are different each day and nature's beauty is shown directly to your table here.
Kihei dining is relaxed, people focused and family tied together. You will have no problem finding a restaurant to suit you taste here. Nightly entertainment is available in Kihei in many of its local bars as well as some of the resorts.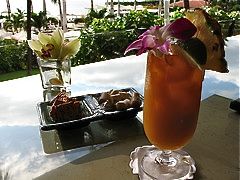 Kihei dining prices run from below $10.00, to upwards of $50.00 for the extravagant per meal.
Looking for simple reasonable dining, look below at the reviews of the top 10 customer voted restaurant reviews. If you wish to add your own review please click on the footer at the bottom of this page to add it.
---
KIHEI DINING RESTAURANT REVIEWS
SUSHI: Koiso Sushi Bar
Sometimes the smallest guy wins big and the Koiso Sushi Bar proves it. Get there early as it only holds about 16 people. Reservations are recommended and can be done at (808) 875-8258. If you like fancy dining skip it but if you want the best sushi please do not waste the trip to Maui and not try Koiso Sushi Bar.
---
Kihei Cafe
Patio dining, morning coffee, newspaper, and your grandmas beach house feel, Kihei Cafe is a Maui vacation served up local style. The best, cannot describe it, this place is, Kihei. Joyful workers, excellent food, outside in lawn chairs, it doesn't get any better than this. Please do one breakfast here, you will be a lifetime patron. Warning this is not a fu-fu restaurant, you want fu-fu go somewhere else, don't disturb the the happy people with negative vibes. KEEP KIHEI DINING HAPPY
---
Big Wave Cafe
Having the freshest fish served daily on an island paradise is hard to pull off but, the Big Wave Cafe does it with style. Located in the Longs shopping center Big Wave Cafe never seems to let a customer down. Daily fresh fish presentations will delight you and the Banana Mac-crusted chicken will drive you wild. For the sensible Kihei dining customer not wanting to spend three months in the gym getting over the Maui vacation try the fresh salads, they will keep you and your budget in shape.
---
Lifes A Beach
Ever wanted a bar with sand floor, good caribbean and rock music, maybe even a live band to help take the edge of work off so you can enjoy a great vacation. Then try Lifes A Beach for lunch or early diner, great homemade mexican, or try a refreshing liquid to cool off the sun, or hell just go get smashed, but don't drive afterwards. Lifes A Beach is the kind of place we all want to own. It has women, sand floor, beverages, food, pool tables, TV's, and a great bar, and with two bathrooms what else can you want out of life. Stop by and give yourself a break, a Mai Tai, a Tropical Itch or a golden relaxer. Visit the web site and get coupon for free chips and salsa. Free food brings Kihei dining up a notch or two.
---
Pita Paradise
Sometimes an open air restaurant under a canopy of trees is just what you need to round out a great day on vacation. Pita Paradise is a hidden gem in the jungles of Kihei Dining. Located in the Kukui Mall behind Lifes A Beach it can be found with a little searching. Rated number 4 best kihei restaurant by customers says a lot when you have over 130 to chose from. Greek bistro style dining with excellent Hummus, and lamb plates. affordable with relaxed dining. Relax and enjoy yourself like the locals who rave about this place.
---
Aroma D'Italia
Offering the best value on Maui for any restaurant is the trademark and wish of the owner of Aroma D'Italia. When you want Veal Piccata, Antipasti, or any selection of Sicilian specialties stop by, at the corner of Kukui Mall. For lighter fare try the fresh fish or Maui beef items. Outdoor dining or indoor dining areas are here to sit in no matter what the weather.
---
Prince Court
Sundays on Maui are for family and if you want treat yours to the best Sunday brunch available in Maui try the Prince Court Brunch located in the Maui Prince Resort in Makena. This is the oldest and most popular brunch On Maui. Delicacies range from raw seafood bar to made to order omelets and everything in between. Champagne servers will hover around making sure you have everything you need. Regular dining includes selections of all food types and styles. A beautiful setting over looking the resort area and beaches of Makena. If you drive take a little doggie bag to your car feed the local cats living near the parking lot.
---
Da Kitchen
Locals on Maui know where to eat and what to order when they get there. Most of them visit Da Kitchen when they want the best Kihei dining offers. Locally owned and dedicated to serving the best local foods at reasonable prices, Kula Pork, Teri Beef, 2 scoops of rice, and potato salad are the plate of a local. Visit the website for free downloads and menus. Stop by while there and GO LOCAL on plate of Maui goodness.
---
Cafe Olei
Kihei has many restaurants to chose from but my favorite Kihei dining place is Cafe O'Lei. South Maui has the restaurant that has the upper end establishment scared. Cafe 'Lei is my kind of restaurant, excellent food, service and prices. Sitting on top of the Rainbow Mall shopping center in the heart of Kihei, the restaurant has a slightly shady look but one bite into its offerings will change all your thoughts. Fresh seafood, beef, sushi, vegetarian items; it is all good and all fresh. Lunch is a tremendous bargain and most locals consider it is too, so seating is tight during the rush.
---
Staying on Maui and not blowing a vacation budget means Kihei. area in Maui seems to hold the best prices of all the other areas. Central to all of the island makes Kihei a top destination. Find out why here.
---
One of the main aspects of staying on your budget is knowing where to stay. Each area or town in Maui seems to hold a different cost structures, but since the island is easily traveled staying in a more affordable area can prove beneficial to your vacation budget.
---
Dining on Maui can be expensive but this page will get you started eating in the right places. A romantic sunset diner may be all you need, or A taco stand might be just the right thing. Find the best of the best for taste and price in the Maui Dining pages.
---
Lodging on Maui is a buffet of choices. Find the one that fits you. Review the offerings and consider your choices before paying too much for services you will not use. House, Condo, Hotel, or Grand Resort; get started with the Maui Lodging page to find your, home away from home.
---
There are 82 beaches on Maui some excellent some OK. Some easy to find and some are romantic hideaways. What ever you are looking for there is a beach to deliver it. Find the good, the bad, and the ugly. Where are child safe beaches, beaches with facilities and those with lifeguards. Even the not so secret little nude beach.
---
After the area, the food, and the lodging are taken care of you will need adventures to tell your friends about. Get Me To Maui's activity pages will sort the good from the bad and create the life lasting memories of when "I Did That On Maui". (COMING SOON)
---
Paradise just wouldn't exists with out golf and Maui is paradise so we have golf. Sort out the best course for your level of play and budget. Get tips on play times, and how to keep your significant other happy while you play your best game.
---
Getting budget shock by the cost of some activities on Maui, have no fear. We deliver over a hundred free activities for you and your family. We even list a few that cost a little but are low priced for what you get. Read, Plan, and enjoy yourself more knowing you can save big with these activities.
---
Check back often we are constantly adding pages and offers. I write pretty slow. You may not be ready to go to maui this year but when you are we will Get You To Maui.
Ma halo